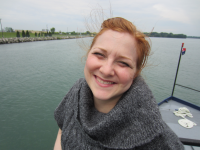 Maureen Laneski
Experienced copywriter and freelancer currently earning certifications in WebDev, Digital Marketing, and UX/UI. I've got a lot of interests, but these three intersect in marketing and in instructional design - my areas of focus.
Besides writing and studying, I enjoy walks in the outdoors and making people laugh. I'm also working at a few places as a tutor in writing and SAT prep. My marketing mentor and I are working on a college prep blog and Facebook group. Lifetime learner. Recently completed a project updating a dispatching test-prep course where I had to learn audacity, develop scripts, and record my voice for video voiceovers. A fun challenge!
Check out some of my clips. Those that are older I have saved to my own database. Please drop me a line if something's not working - clients freshen up their blogs, and sometimes that means that my stuff gets moved around.
I love finding images and always research!
Need a writer for your product specs, reports, web pages, blogs, or Social Media? Let's chat!
Expertise Education, ADHD, Training
Skills Writing, Copywriting, Editing, Teaching Writing, ADHD accommodations, differentiated instruction, training, technical writing.
Location Michigan